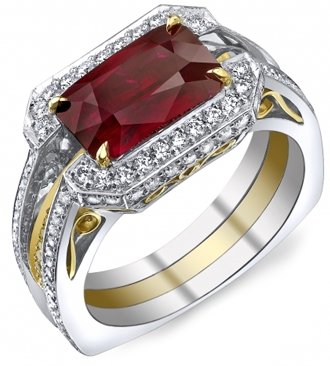 The Beauty of a Ruby
July's birthstone represents love, passion, courage and emotion. For centuries this gem has been considered the king of all gems. It was believed that wearing a fine red ruby bestowed good fortune on its owner. Rubies have been the prized possession of emperors and kings throughout the ages. And still to this day it is one of the most valued of all the colored gemstones. It is also one of the more durable of the gemstones. So your birthstone is a long lasting beauty who is highly valued. It is one of the most instantly recognized gemstones and will bring you much admiration when worn.
Since the color is the most important feature of any gemstone the value depends on what tone of red your ruby is. It is available in a range of red hues. From a purplish and bluish red to orange-red. The brightest and most valuable of the colors of ruby is termed 'a Burmese Ruby'. A ruby know for having a rich, passionate, hot, full red color with a slight blue hue. You may have heard this color is referred to as "pigeon blood" red, a color only associated with the Mogok Valley mines in Myanmar. Although the color Pigeon Blood red, is not associated with the color of a pigeon's blood. But rather the color is termed because of the color of a white pigeon's eye. If you have not yet seen the unmistakably beauty of Pigeon's Blood come into Diny's Jewelers and ask to see our selection.
Please contact us at Diny's Jewelers for more information on rings, necklaces, bands, and much more. 608.831.3469

Categories: Featured Jewelry, Jewelry News
Sorry, comments are closed for this item.